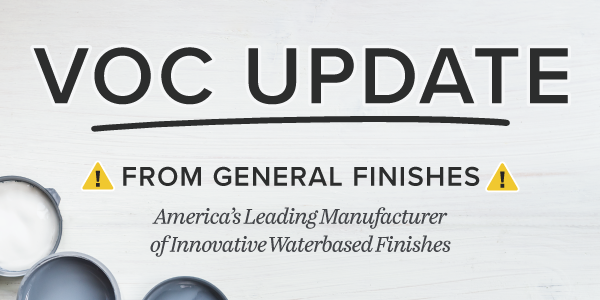 The future of water-based finishes is good.
Enhanced versions of water-based wood finishes and coatings with improved performance characteristics are driving the coatings market for furniture, cabinets and other non-wood substrates. Today's water-borne topcoats, stains, and primers offer key benefits such as chemical resistance, high durability, low VOC emissions, fire compression, and water cleanup. General Finishes offers tomorrow's finishes today,
2019: VOC restrictions on Oil Gallons
Gallons of GF products listed below are prohibited from sale by various VOC regulatory agencies in the following states: California, Utah, Phoenix Arizona, Illinois, Indiana, Ohio, Pennsylvania, New York, Connecticut, Massachusetts, Maine, Rhode Island, Delaware, Maryland, Virginia, New Hampshire, and New Jersey. Quarts, pints, and half-pints are not affected.
Gallons below are prohibited:
Oil Finishes
Oil Topcoats
Arm-R-Seal
Sealacell Clear
Wood Bowl Finish
Outdoor Oil
All Oil Gel Stains Gallons
American Oak-Gel
Antique Walnut-Gel
Ash Gray-Gel
Black-Gel
Brown Mahogany-Gel
Candlelite-Gel
Carbon Gray-Gel
Colonial Maple-Gel
Georgian Cherry-Gel
Gray-Gel
Java-Gel
New Pine-Gel
Nutmeg-Gel
Prairie Wheat-Gel
Topcoat Satin-Gel
White-Gel
Water Finishes
GF Accelerator
GF Extender
Other
The Good News...
All GF water-based products (including gallons) not listed above are not affected, as they are VOC compliant in all states. Finally, we are the country's leading water-based stain and finish manufacturer, ahead of all the competition.
The Gang at General Finishes