Join General Finishes' Bill Strey and Tom Monahan for an in-depth overview of GF's line of wood finishes. Attendees will receive hands-on demonstrations working with GF products and create samples they will be able to take home.
This event is geared towards retailers and serious professionals wanting to learn advanced application tips using General Finishes products as well as unique refinishing techniques. Topics highlighted in this event include:
Differences between oil-based and water-based stains and topcoats, Milk Paint, pigmented poly, and Chalk Style Paint
Proper application techniques
Glazing. layering, and distressing effects
Different types of spray equipment, including hands-on practice and an exclusive Factory tour
Registration for this event is $50. This fee includes samples and supplies, a light breakfast and a catered lunch… dress accordingly!
Registration is limited to the existing wait list. You will be informed by email which day you are registered for.
Date & Time
Thursday, March 1, 2018  or March 2, 2018
8:00 a.m. to 4 p.m.
Location:
General Finishes Factory
2462 Corporate Circle
East Troy, WI 53120
Nearby accommodations:
Quality Inn - 2921 O'Leary Ln, East Troy, WI 53120 866-573-4235 (5 minutes away)
Rodeway Inn Mukwonago 945 Greenwald Ct. Mukwonago, WI 53149 866-573-4235
Grand Geneva Resort & Spa  7036 Grand Geneva Way, Lake Geneva, WI 53147 (800) 558-3417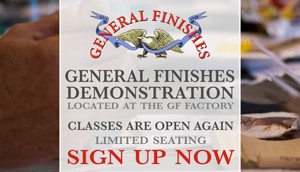 When & Where
General Finishes
2462 Corporate Circle
East Troy, WI 53120
United States
---
42.771715183242, -88.393785953522