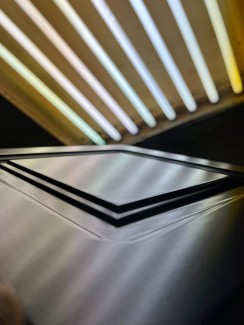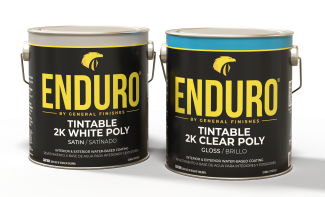 A high-performance 2K coating has a base specifically formulated to be catalyzed with Isocyanates to crosslink the polymer fully. This catalyst provides superior performance over 1 K coatings that have been hardened with PolyAzuradine or Carbodiiamide. To create Enduro Tintable 2K; General Finishes tested over 30 polymers, resins, and other ingredients sourced from around the world. These new coatings are engineered to prevent the biggest frustrations for today's professional, industrial and OEM users providing ultimate durability for interior/exterior use. General Finishes goes hard for great chemistry, so you don't have to worry when your clients are tough on the paint. Paired with Tintable 2K Clear Poly, you have a dynamic duo of 2 component finishes, the most durable interior/exterior coatings General Finishes has ever created. You can apply confidently, knowing that you are giving your customer the best the industry offers. Perfect for new or remodeled cabinets, furniture, woodwork, pre-primed steel, fiberglass, and exterior projects. Made in the U.S.A.
KEY FEATURES
Ease of application. Whether in a shop or on-site, Enduro 2K is designed to flow and level for Professionals/Industrial users that apply with AAA, HVLP, Airless, or flatline systems.

Tintable to any major manufacturer's color deck. Enduro 2K hits the deepest darks, the bright whites, and everything in between. General Finishes recommends ColourFal Zero colorants.

Higher gloss standards for white and clear, with 90+ degrees on a 60-degree angle.

Fast production time: You can spray 3-4 coats of Enduro 2K and sand in between coats in one day. Enduro 2K cures for use in 5 days.

Fast film build: Enduro 2K'S are engineered with a combo of larger and smaller-sized resin particles, which, when combined with the catalyst, allows for a thicker, quicker film build than any 1K. It provides a better vertical hang when spraying built-in surfaces on-site, with fewer drips or sags.

Water and chemical resistance: Combining our new resin with catalyzation allows Enduro 2K to hit a commercial level of water and chemical resistance that *exceeds industry requirements and guidelines". This is the perfect coating to stand the test of time on Wisconsin bar tops.

Excellent adhesion properties on properly cleaned and prepped wood, plastics, fiberglass, and pre-rimed steel. (It Sticks).

Exterior use: This new finish has an unusual balance of durability and flexibility, making it the professional's choice for outdoor projects such as doors, benches, furniture, and tables. Do not use on deck surfaces.

Consistency. General Finishes prides itself on superior quality control to meet and exceed the customer's expectations.
Available in Flat, Satin, Semi-gloss, and Gloss
---
Related Categories
---
---